I think I've read this novel before- sometime back in high school, or maybe middle school- or perhaps I've just read so many Anne Boleyn novels that I have gotten them confused in my head. Either way, I've thoroughly enjoyed this book, and couldn't put it down. There is something about the Tudor era that just entices- the splendor, the drama, the danger. Since Henry VIII's reign was such a turbulent time, I've been fascinated by the historical stories that take my imagination back to him and Anne Boleyn, his second wife. The 650 page novel took me a while to read due to my recently busy schedule, but once I picked it up, it was difficult to put down.
Gregory takes us back into time during the 1520's under the rule of Henry VIII, through the eyes of Mary Boleyn, the younger sister of Anne Boleyn. Mary is a young courtier and recently married, living and serving the then Queen of England, Katherine. She has always been the obedient child, and when her uncle and father plot to move the family up in title and wealth, they command Mary to start attracting the King of England. Desperate for a son that seems impossible to receive from his wife, he seeks Mary's company, and she becomes his mistress. Competitive sister Anne is full of charm and ambition, and though she claims to want what is best for the family name, she has a temper and jealous streak that says otherwise. While Mary is shut in birthing the king's child, Anne is pushed by the family to keep the king's attention from both his queen and any other pretty ladies in waiting. Then, while Mary is birthing the second child of the King- a son!-, Anne has stolen the King's attention from his wife and from Mary. Pushed by Anne, the King seeks to dissolve his marriage with Queen Katherine, and seeks to take Anne for his new wife. In the reform of the reign, all hell breaks lose, and Mary, Anne, and their families find themselves caught in a tangle of manipulation and on the verge of treason. The Boleyn sisters learn that power can cost a life- sometimes others, sometimes your own.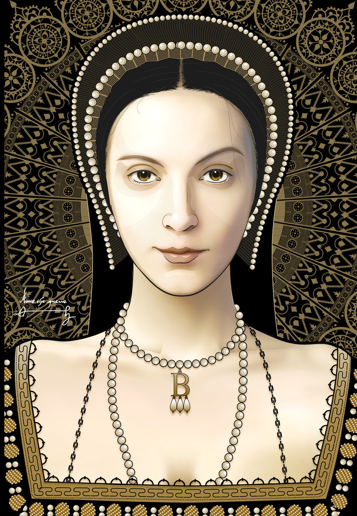 (Photo Credit: Google Images)
If you aren't already familiar with the Boleyn legacy, then Google her name and read. You'll want to read The Other Boleyn Girl to imagine the scandalous details.
*Added 6/19/2018* There is also a 2008 movie version of this novel starring Natalie Portman and Scarlett Johansson, and it follows the book relatively well. Definitely recommend you watch!