"There is no someday. We spend so much of our lives waiting for someday, don't we? There is only right now. This is our someday."
Burn Town just made one of my top favorite books of the year so far. When I read Winter People, I remember liking it but not enthralled, but I'm glad I decided to try again with McMahon, because WOW.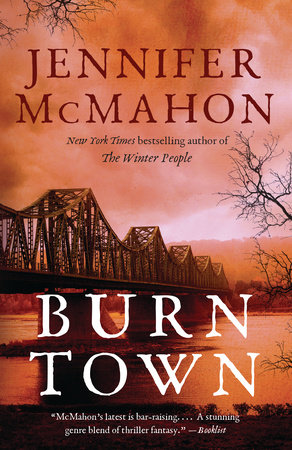 (Photo Credit: Google Images)
Burn Town had me hooked in the first 10 pages. HOOKED. By page 35, I had a running list of questions, and by page 50, I couldn't take my eyes off the page. There are very few books that I've read in one day, yet here I am, adding this suspense thriller to the list. I could not put it down.
The whole story starts with the murder of Elizabeth Sandeski, the grandmother of the main character, Necco (Eva). Necco's father, Miles, witnesses the murderer take his mother's life, and years down the road attempts revenge. Thanks to a machine that links the living with the dead, Elizabeth reveals who killed her, and Miles takes matters into his own hands- or so he thinks. Years after that, Necco's mother has a sort of premonition that the family is in danger again, and Necco learns that she's in danger just before things get foggy and her memories fade to black.
Now, Necco is on the run again with the help of a high school drug dealer, a circus-crazed cafeteria lady, and a part-time private investigator, trying to figure out who is after her and what happened to her family after "the Great Flood". Everything Necco thought she knew is nothing compared to the truth she uncovers.
Absolutely recommend the read, as long as you can handle the thrill of it!