Another book tag today, folks! Brigid at Watching the Daisies  posted the Book Lover's tag not too long ago and said that anyone who wanted could give it a shot, so I'm taking mine! Also, feel free to have at it yourselves 🙂
__________________
1. Do you have a specific place for writing?
If it's handwritten, I'm probably on my bed or the couch, somewhere comfy. If I'm typing, I'm at my desk… or sometimes on the couch, if I'm feeling lazy, haha.
2. Book mark or random pieces of paper?
Hahaha… random pieces of paper. I LOSE EVERYTHING. I think bookmarks are gorgeous and I'd totally use them more, but I tend to leave them in books or they get crumpled in my purse or I set them somewhere while I'm reading and then walk away with the book in my hand only to remember I forgot the bookmark. *facepalm* I know.
3. Can you stop anywhere or must it be at the end of a chapter?
I can stop anywhere, but I prefer it be the end of something- like the end of a paragraph or a chapter or the end of a section of dialogue.
4. Do you eat or drink whilst reading?
Coffee coffee coffeee. So yes. Also I eat and read on my lunch breaks pretty much every day.
5. Music or TV whilst reading?
(Photo Credit: Google Images)
Music- yes, the earbuds go in if I'm in a room/car full of people and want to drown them out while I'm reading (haha introvert much?). TV- sometimes. Sometimes I want the background noise, so I'll turn it on something I've seen before so I don't lose focus on the book.
6. One book at a time or several?
One at a time, most of the time. Of course I'm reading two right now. But that's my max.
7. Do you prefer to read at home or elsewhere?
I can read for longer periods of uninterrupted time at the house, so I prefer that, but I can read anywhere, except in the car on winding roads.
8. Read out loud or silently?
Silently. It slows me down to read out loud, which drives me crazy.
9. Do you read ahead or skip pages?
If I can't get into a book, I'll read the last few pages. If I'm blown away- like, how did that happen?!- then I'll go back and read the whole book. If not, and I can guess exactly what happened, then I'll DNF that book and move on to the next. Life is too short to read something you don't enjoy on your own time.
10. Break the spine or keep it like new?
I try to keep my books in new condition, really I do… but my track record points me to breaking the spine. Also, I buy a ton of used books, so many times they come to me well-loved anyways.
11. Do you write in your book?
If it's a gift to someone, I may write in the front cover a note, but most of the time I won't write in a fiction novel. Textbooks are different- I highlight like nobody's business.
12. What books are you reading now?
I'm about to devour The Perks of Being a Wallflower by Stephen Chobosky. I'm also reading Smart Women Finish Rich by David Bach, trying to help figure out my financials.
13. Favourite childhood book?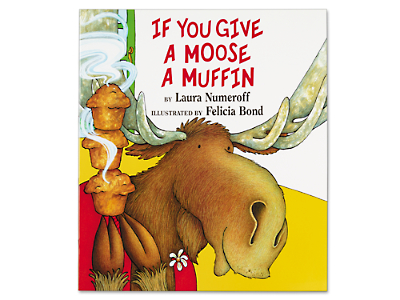 (Photo Credit: Google Images)
I made my dad read "The Three Little Kittens" and "If You Give a Moose a Muffin" about a million times each. He can still recite them, I bet!
14. All time favorite book? 
How can you choose favorites when you've read so many amazing books?!
Feel free to give this tag your best shot!
---
---
Categories: Book Tags